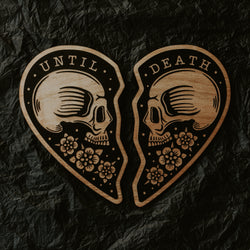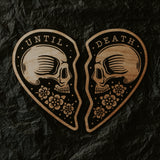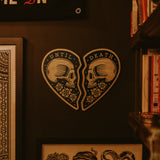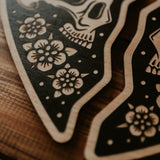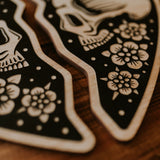 UNTIL DEATH - WOODCUT WALL HANGING
Building on our best selling pin badge set and print, we wanted to add more to our "Until Death" range. Our aim was to create a design that acts as a symbol and reminder that even when you're apart, you are still together - 'Until Death'.
This product is an exciting first for us, we partnered with
Clear Cut Creation
 for it. They fit perfectly together and would make a very special gift for a loved one. They're a great addition to a gallery wall to add a different texture/feature to surrounding prints. 
PRODUCT FEATURES:
Made from two separate pieces of black birch ply
Dimensions - H:260mm, W:305mm, D: 6mm (both pieces)
Laser engraved in the UK 
Wall hanging fixture included on the back.
Please note:
 due to the wood type/cut of these pieces, there may be some minor differences but all will pass an in house quality check.