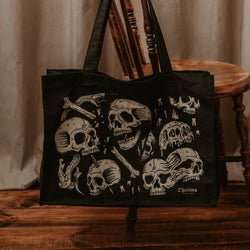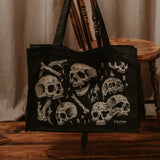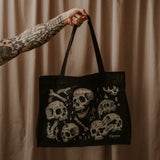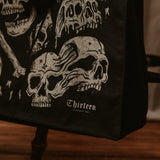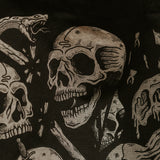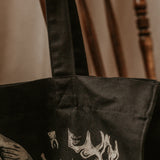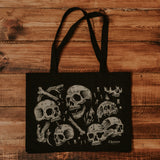 DEATH & DECAY - BLACK SHOPPER
We love creating a flash sheet-based design, and there's nothing better than drawing a range of skulls. We have developed our signature style skull over the years and wanted to put together a range of decaying varieties for All Hallows Eve.
PRODUCT FEATURES
Black woven shopper bag.
Hand screen printed on one side with our 'DEATH & DECAY' design at our Middlesbrough studio. 
Top edge double folded for strength and clean finish.
Long handles with reinforced cross stitch.
80% RECYCLED COTTON, 20% RECYCLED POLYESTER
300 G/M2
Width: 49cm, Length: 37cm, Strap Length: 70cm.