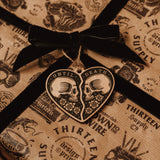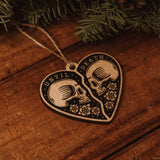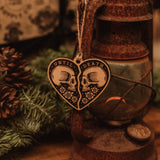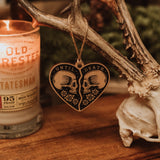 UNTIL DEATH - WOODCUT DECORATION
This item is a pre-order, the expected shipping date is the week commencing DECEMBER 11th 2023. Orders placed with other products that are NOT on pre-order will still be shipped the week commencing DEC 11th 2023. If you require the other products earlier, please place two separate orders. 
This product is in partnership with
Clear Cut Creation
 It would make a very special gift for a loved one. They're a great addition to a Christmas tree or simple decoration within the home. 
PRODUCT FEATURES:
Made from black birch ply
Dimensions - H:60mm, W:72mm
Designed at our Middlesbrough studio and laser engraved in the UK by Clear Cut Creation.
String/twine hanging. 
Please note:
 due to the wood type/cut of these pieces, there may be some minor differences but all will pass an in house quality check.